10-27-2019, 01:57 AM (This post was last modified: 12-09-2019, 12:31 AM by [IJWTB] Thomas. Edited 1 time in total.)
-Punishment Request Form-
-Your Information-
Your Steam Name: Mono-Si Engineering
Your Steam ID: STEAM_0:0:57698793
-Abuser's Information-
Abuser's Steam Name:
Fyris
Abuser's Steam ID:
 STEAM_0:0:150321756
-Player Interview-
What did the other player(s) do that constitutes as mingey behavior:
Ok, let me share the situation to the best of my ability.
It started a few days ago when I invited Fyris to help me test my Smash Bros E2.
It was going well until he stated that having multiple characters was "retarded" and that I "did a bad job" (See chat logs). After those destructive criticisms, I revoked Fyris' access to the game. He then begged to be given access again before I asked him to leave the game area (which was very far in the sky, away from everybody because of how the E2's find events worked). Fyris refused to leave after god knows how many warnings (WHICH I FAILED TO RECORD IN TEXT CHAT, SORRY), so I had to voteban him twice (both failed). Fyris has been very passive aggressive and defiant towards me ever since. What reason, other than malicious defiance, would someone have to come over to the play area and throw off my E2's find events? I had to make this forum post because Fyris is now harassing me in proxy via my friends. He's messaging my friends and being all dramatic about me pointing out his defiant and passive aggressive behavior [See evidence 1]. The same day as he claims to my friend about being exhausted from the drama, he goes out of his way in chat to announce that he muted me. This is an example of the passive aggressive tone in his writing [See Evidence 2]. I'm making this forum post because I need help. I know staff can't prevent behavior outside of games, so I don't expect a punishment for it. Fyris is starting a smear campaign against me, and I don't know what to do other than point out his wrongdoings. Although this is a punishment request, I'm making this as a way to explain to my friends and defend myself. I am sorry for the drama I have caused. 
Did anyone else witness this incident, and if yes, who:
I have no idea at this point. A lot of people.
-Evidence-
Please list your evidence here (unedited screenshots, chat logs [screenshots, not plain text], videos, etc):
1: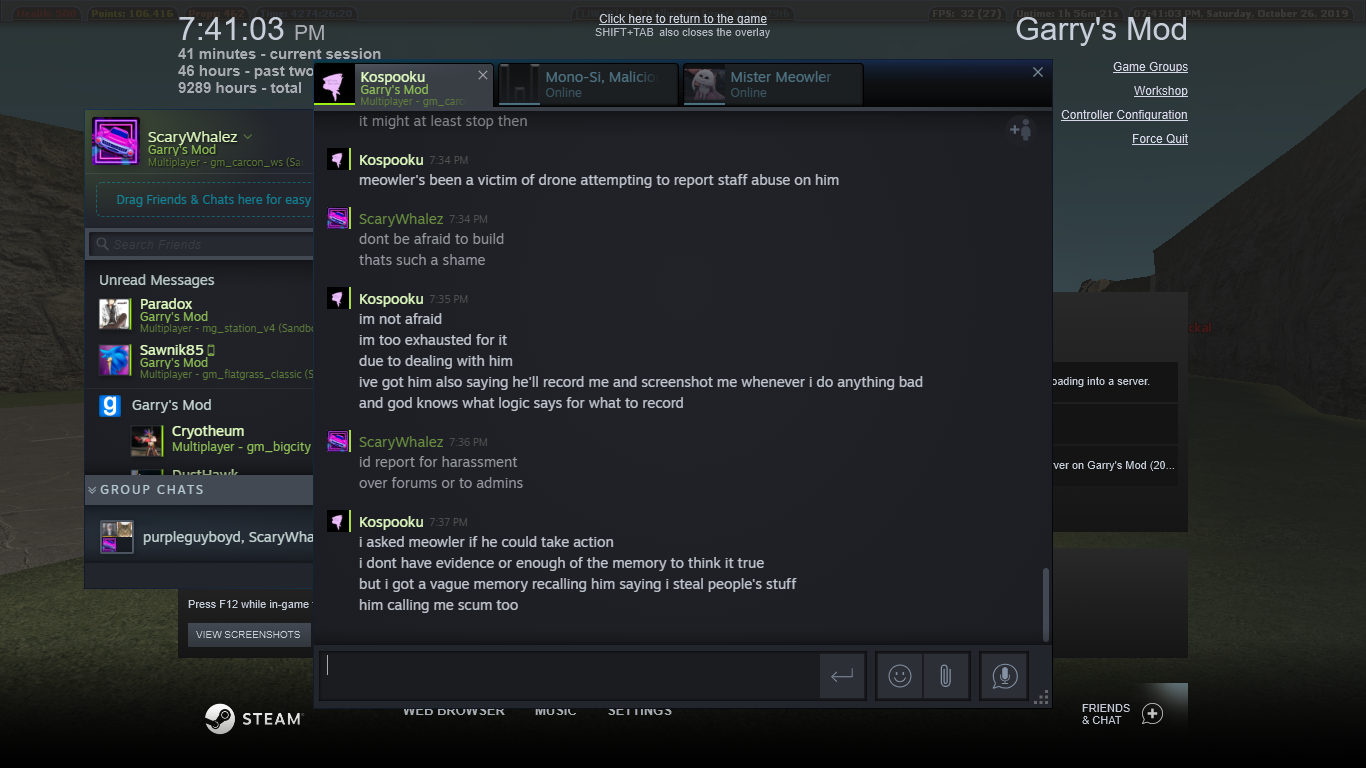 2: